Biography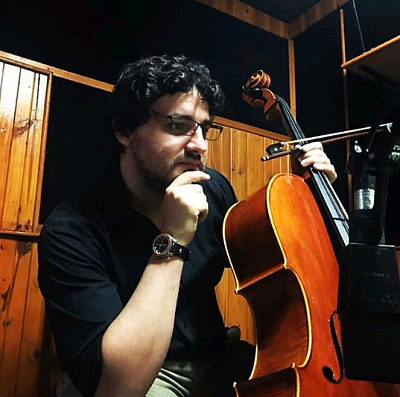 Aristide du Plessis, Principal Cellist of the KZN Philharmonic Orchestra, has established a reputation as one of South Africa's leading cellists, making regular appearances on national television and radio, both as a soloist and chamber musician. He has performed in some of the world's most renowned concert halls ranging from the Zürich Tonhalle and Vienna Musikverein to the Herkulessaal in Munich, Wiener Konzerthaus and the Berliner Philharmonie.
Having won numerous prizes in competitions such as the Kiwanis Chamber Music Prize (Switzerland), ATKV Musiq, FMR/Nussbaum, Stellenbosch National Ensemble Competition (1st Prize, Axiom Piano Trio), he has made Chamber Music collaborations, at home and across Europe, with artists such as Tai Murray, Anthony McGill, Wolfgang-Emanuel Schmidt, Peter Martens, Keiko Tamura, Christopher Duigan, Nina Schumann, Frank Stadler, Daniel Rowland and Marian Lewin.
As a soloist he has performed since the age of 15 with all of his country's leading orchestras such as the KZN Philharmonic, the Cape Philharmonic, Johannesburg Philharmonic, Camerata Tinta Barocca (Cape Town) and Baroque 2000 (Durban), under the batons of conductors such as Bernhard Gueller, Daniel Boico , Alexander Fokkens, Brandon Phillips, Naum Rousine and Arjan Tien.
A graduate of the University of Cape Town where he studied with Anmari van Der Westhuizen, Kristian Chernev and Marian Lewin, his initial training was with Kolio Kolev and later Boris Kerimov. A Scholarship from the prestigious Oppenheimer Memorial Trust enabled him to further his studies at the Zürich University of the Arts, where he studied with the renowned pedagogue and long-time Principal cellist of the Tonhalle Orchestra, Thomas Grossenbacher.
Further instruction was received in Masterclasses from Maria Kliegel, Gary Hoffman, Wolfgang-Emanuel Schmidt, Arto Noras, Eugene Osadchy, Claudio Bohorquez, Martin Löhr and Wolfram Christ.
Aristide is also a passionate Cello Teacher, having presented Masterclasses for the South African National Youth Orchestra, the University of Cape Town, and at the KZN Philharmonic's Orchestra Academy.
Since March 2022 he has been the Principal Cellist with the KZN Philharmonic, having previously been the Co-Principal since 2015.
Aristide plays on a 20th century French cello made circa 1920, as well as a "Montagnana" cello made for him in 2022 by Tivadar Mohácsi.